2021 Annual & Collaborative Meeting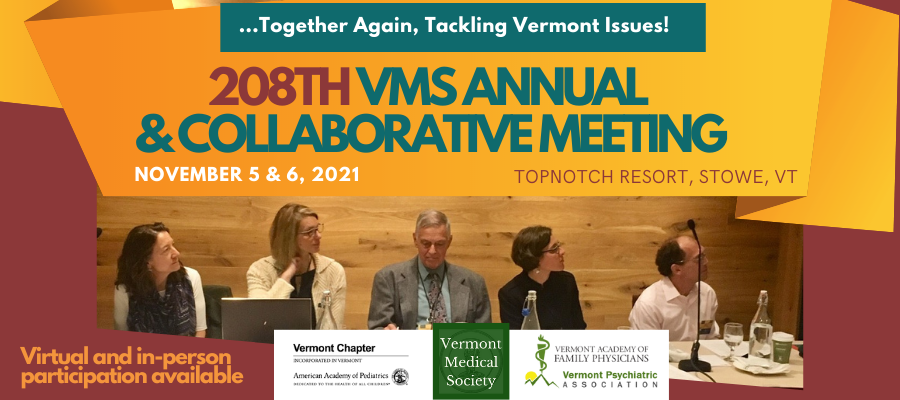 The 208th VMS Annual & Collaborative Meeting - November 5&6, 2021
2021 VMS Survey Seeking Feedback on Policy Resolutions for Annual Meeting
VMS has sent a survey to its members via survey monkey, soliciting comments on the proposed 2021 Policy Resolutions. This year, the resolutions propose action-oriented solutions to address:
1. Coverage for Audio-Only Telehealth
2. Call to Prioritize Primary Care Resolution
3. Support for Increased Access to Home Health and Hospice Services
4. Addressing Pediatric Mental Health Needs in Vermont Resolution

All members are encouraged to provide feedback and non-binding comments on the resolutions between August 10th and September 7th, 2021. Each VMS member should have received an email with a unique link to submit comments via SurveyMonkey. If you did not receive a link, comments can also be emailed to jsudhoffguerin@vtmd.org. Please note: the comments DO NOT REPRESENT A VOTE on the resolutions and feedback is in comment format only. Members will be required to share their name on comments.
Voting on the policy resolutions will take place during the live, in-person and virtual VMS Member Business Meeting, Saturday, November 6th from 9am – 12pm. Only those registered and attending the 2021 VMS Annual Meeting will be able to vote on the resolutions. Comments submitted via the online system will be shared with the VMS Council at the Council Meeting on September 15th, 2021 and may inform amendments or the discussion on the resolutions. Comments will also be available (with names and email removed) to the membership.

Register for the 208th VMS Annual & Collaborative Meeting - Nov. 5th & 6th
Please join the VMS, in collaboration with the American Academy of Pediatrics Vermont Chapter, Vermont Academy of Family Physicians and the Vermont Psychiatric Association for the 2021 VMS Annual & Collaborative Meeting on November 5th and 6th, 2021 at the Topnotch Resort in Stowe, VT!
This year's event will feature both in-person and virtual options to participate and will pack a lot into a shorter time span. The meeting will start Friday afternoon at 12pm and will end at roughly Saturday at 4pm. Join us for the AAPVT, VTAFP and VPA meetings & receptions, Awards Dinner, VMS Business Meeting and collaborative educational sessions. Relaxing networking and social activities will be included at the beautiful Topnotch Resort.

Book your room today with the VMS room block via the following options:
Phone - 1.800.451.8686.
Online - visit the website here and use code VTMD21