COVID-19 Vaccine Information
Most Recent Updates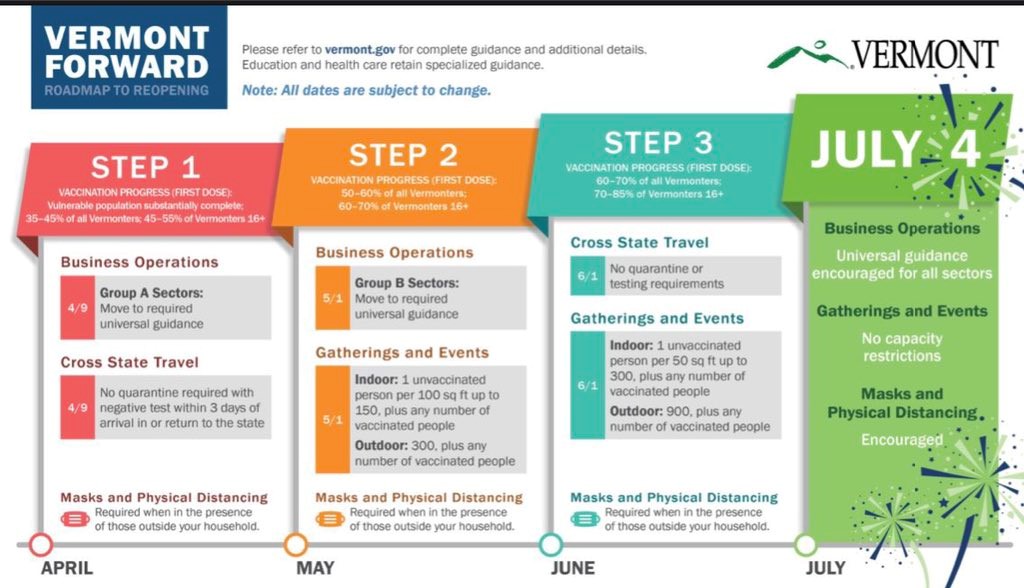 April 6th: Governor Scott Announces Reopening Plan; Full Reopening By July 4th
At today's press conference, Governor Phil Scott laid out a plan for fully reopening the State, including for travel and events, by July 4th. The plan can be found here. "Step 1" will take effect this Friday, April 9th. Group A businesses (outdoor, low contact) will move to more universal reopening guidance and there will no longer be any quarantine requirement for travel, regardless of vaccination status. Instead, unvaccinated individuals will need to test negative within three days of travel to or return to Vermont. By Step 3 on June 1, there will be no quarantine or testing requirement for travel and by July 4, there will no longer be limits on gathering sizes, mask or physical requirements, though masks will continue to be "encouraged." Moving between steps will be based on meeting vaccination benchmarks, though administration officials stated that they think these benchmarks will be met and Vermonters can "make plans" based on this announcement, and that officials will also continue to look at positivity rates, hospitalizations and deaths. Officials also acknowledged the continued high level of positive tests, especially among younger Vermonters, and how that reinforces both the effectiveness of vaccines and need to double down on prevention efforts for the next few weeks while individuals get vaccinated. A recent survey showed that Vermont could achieve one of the highest vaccination rates in the country, with 88% of those not yet eligible stating they would definitely or likely be vaccinated.

March 22, 2021 -
COVID-19 Testing Recommendation Update for Long-term Care Facilities
March 18, 2021 -

VDH releases HAN on Reactogenicity, Contraindications, and Precautions: mRNA COVID-19 Vaccines
March 17, 2021 -


Click for more VAERS information
---
March 9, 2021
COVID-19 Vaccination Phase 5: This Thursday, AHS Expanding COVID-19 Vaccination to Vermonters Aged 16-64 with High Risk Health Conditions
At the Governor's press conference today, Secretary Mike Smith said after a sluggish number of COVID-19 vaccination registrations by Vermonters 55 and older with certain high-risk health conditions (HRHC), the State will open registration to Vermonters aged 16-64 with HRHC starting this Thursday, March 11, 2021. The State has estimated that there are approximately 75,000 people with HRHC in the full age band, but when only 10,000 people signed up yesterday, they made the decision based on vaccine supply and staffing to open vaccine registration to the full population of Vermonters between the ages of 16-64 with HRHC. Late last Friday, the Vermont Department of Health released a memo for practitioners outlining the registration process for patients with indicated HRHC (listed on page three of the document). They also included a list of ICD-10 codes that may be helpful in identifying and verifying those eligible for COVID-19 vaccination.

Practices may be contacted beginning this week to verify a sample of patients as having HRHC. As of yesterday, teachers, school staff and childcare staff are also eligible to receive their COVID-19 vaccine at on-site school vaccine clinics or through the Walgreens pharmacy program. They can make an appointment only AFTER being contacted by school leadership or by the Department for Children and Families, who will provide a code. Appointments are required and the clinics cannot accept walk-ins. Secretary Smith anticipates these clinics will begin to ramp up pretty quickly. Last week, the Governor announced a loosening of restrictions on multihousehold gatherings for those who are vaccinated. Today, he said on Friday he will be announcing further loosening of restrictions on small gatherings that will have indications for restaurant capacities, as long as individuals maintain masks and 6 foot social distancing.

Eligible Now for COVID-19 Vaccination Registration
Long-term care residents and staff
Health care workers
People age 65 and older
People age 16 and older with certain high-risk health conditions
People who work in the education system
People who work in the public safety system
Eligible in Late March
People age 60 and older
---
VDH Publishes Screening Policy for Health Care Workers in Phase 1A - 2.1.21
Monday, February 1st, 2021 the Vermont Department of Health (VDH) published guidance, providing the latest screening criteria to determine which health care clinicians are eligible to qualify for the Phase 1A COVID-19 vaccination group. If a patient is not eligible based on the screening questions outlined in the guidance, they will need to wait for a new phase of the vaccine rollout in which they meet eligibility criteria. If you are a 1A-qualified individual please contact your hospital to schedule your vaccine now.
Other hospitals – contact Elizabeth Alessi at the Vermont Medical Society for contact information: ealessi@vtmd.org.

Vermont Health Department Provides COVID-19 Registration Update for Health Care Professionals
The Health Department is now scheduling Vermonters ages 75 and older for COVID-19 vaccine appointments – at HealthVermont.gov/MyVaccine or by calling (855) 722-7878.
Feb. 5, 2021 - More than 10% of the state's population has now been vaccinated against COVID-19, which means that roughly 58,000 Vermonters have gotten at least one dose and 22,500 have gotten a second dose. About 21% of people 75 and older have gotten the first dose and 33,100 people in this age group have registered for the shot so far.
COVID 19 Vaccine Registration: Screening Questions and Primary Care Concerns
Blood Thinner and Vaccination Registration – VMS heard from many members with concerns regarding the question about blood thinners on the registration form, which directed patients to discuss concerns with their primary care practitioners (PCPs). As blood thinners are not a contraindication for vaccine administration, this direction was causing undue call volume to PCPs. After discussions with VDH, VMS learned that questions regarding blood thinners will no longer be included in the registration system at all, but each patient will be asked whether they are on blood thinners at the vaccination sites using the CDC vaccination checklist.
Registering for Vaccine without Email / Care Coordinator Registration of Patients - Currently, the only way for Vermonters over 75 yrs old who do not have an email address to register for their COVID-19 vaccination is to call 855-722-7878. If a patient without an email address has a family member or friend who can add them as a dependent, they can be registered that way. VMS will continue to work with VDH to think about ways to allow care coordinators to help register people without email addresses but for now the process is to register patients through the phone line listed above.
---
February 4th - COVID-19 Vaccine-Related Axillary Adenopathy Update and Resources
Dr. Sally Herschorn, M.D., Radiologist and Co-Division Chief and Medical Director Breast Imaging at UVMMC shared information regarding the fact that reports are surfacing that the new vaccines are causing an increase in transient axillary lymphadenopathy in the ipsilateral axilla to the arm where a vaccine has been administered.

Patients should be made aware that transient axillary adenopathy is the body's normal reaction to the vaccine, a sign their body will be making antibodies, and it is not something to be worried about. Resources and guidance:
---
As registration opened on 01/25 for Vermonters over 75 to register, the Vermont Department of Health (VDH) wants to assist you answer potential questions from your patients and ask you to please try to disseminate the following information:
There are enough appointments for everyone eligible. Not receiving an appointment on the first day due to system restrictions does not mean a vaccine is not available to them.
Encourage people to make their appointments online. Online registration requires an e-mail address to create an account in the system. If they have received testing through a Health Department site, they may already have an account, and they should use that login information. If making an appointment for a loved one, make sure they have access to the e-mail address. That is where the system will send the registration link. Only one account/email can be used per person/appointment. Find more answers to common registration questions.

If they make an appointment, keep the appointment. Cancellations and no-shows may cause spoiled vaccines. If they need to cancel, they may do so through their online account or the phone number.
Help Eligible Patients With the Enrollment Process
The process to make appointments may seem complicated to your patients, especially in these early phases. Please familiarize yourselves with the process at HealthVermont.gov/MyVaccine.
Appointments can be made by phone. 855-722-7878; Monday-Friday, 8:15 a.m. – 5:30 p.m.; Saturday and Sunday, 10:00 a.m. – 3:00 p.m.
Answers to common questions about registration, transportation, and expectations can be found on the Registration and Appointment FAQ

Arabic | Burmese | French | Kirundi | Nepali | Somali | Spanish | Swahili | Vietnamese
Below is additional information we hope will benefit you while speaking with your patients:
The Questions Your Patients Will Be Asked During Registration (and may call you about)
Registrants for vaccine will be asked at the time of registration on the state website whether they
have any history of allergic reaction to vaccines or injectable therapies
are currently sick with COVID-19
have recently had any other vaccines
have a bleeding disorder or are taking blood thinners
are pregnant
are breastfeeding or lactating

These questions come from the pre-vaccination-screening-form
Note that the answers to these questions are not contraindications with the exception being someone is currently sick with COVID-19
CDC Pre-vaccination Checklist for COVID-19 Vaccines includes the question "Do you have a bleeding disorder or are you taking a blood thinner?" The guidance states that COVID-19 vaccine may be given to these patients if a physician familiar with the patient's bleeding risk determines that the vaccine can be administered intramuscularly with reasonable safety. As part of the registration process, this question is being asked. If a person answers YES, they are encouraged to speak with their provider about getting vaccinated.
Administration of Antihistamines NOT Recommended Before Vaccination CDC does not recommend the administration of antihistamines prior to COVID-19 vaccination to prevent allergic reactions. Antihistamines do not prevent anaphylaxis, and their use may mask cutaneous symptoms, which could lead to a delay in the diagnosis and management of anaphylaxis.
Vaccinating Homebound Individuals
VDH and other state agencies are currently working on a plan to with emergency medical services agencies across Vermont to provide in-home vaccinations
Note: These in-home vaccine visits haven't started yet, and probably won't be ready in the next phase of vaccine distribution
---
VDH COVID-19 VACCINE DASHBOARD
The COVID-19 Vaccine Dashboard will be updated every Wednesday by noon. Information reflects counts reported by the end of the previous day. Data is subject to change. The dashboard will continue to undergo enhancements as more information becomes available.

Rates of Vaccination as of 1.27.21 (sources: VT DoH press conference and SVMC data)
Vermonters

8.1% of Vermonters age 16 and older
The first (and possibly only) state to have a higher percentage of patients vaccinated than the cumulative number of those testing positive for SARS-CoV-2

Vermont health care centers and hospitals
Vermont long term care facilities

92% residents
60% of long-term care staff members
---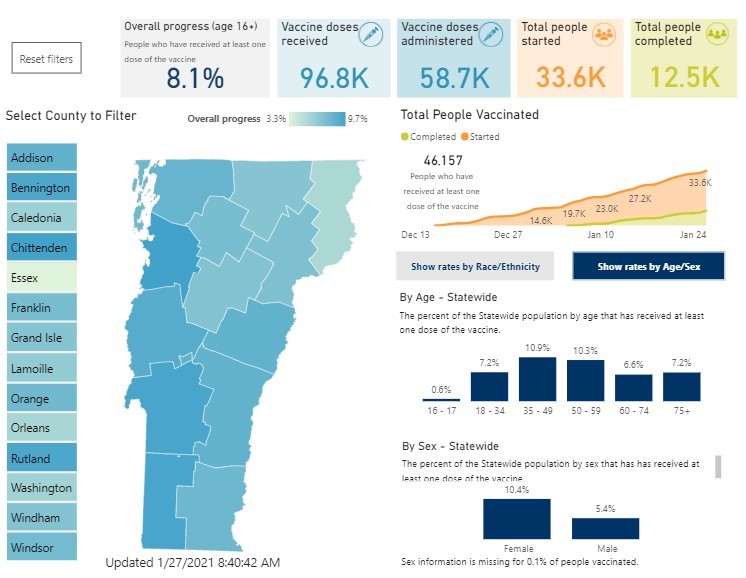 ---
A recording of the webinar held by VMS on December 22, 2020, "COVID-19 Vaccine Safety, Distribution, and Considerations for Patients," can be viewed HERE.
Click for the Vaccine webinar Question & Answers
Emergency Use Authorizations
As of Friday, December 18, 2020, FDA has granted two vaccines Emergency Use Authorization (EUA).
Pfizer-BioNTech COVID-19 Vaccine
The Advisory Committee on Immunization Practices (ACIP) Interim Recommendations
ACIP Interim Recommendation for use of Pfizer-BioNTech COVID-19 Vaccine
ACIP Interim Recommendation for use of Moderna COVID-19 Vaccine
---
Vaccine Adverse Event Reporting

The CDC hosted a webinar on "What every Clinician Should Know about COVID 19 Vaccine Safety," covering topics including what patients can expect after COVID-19 vaccination, encouraging all patients to enroll in?the new smartphone-based v-safe system?for health check-ins after vaccination, and how clinicians can report adverse events to the Vaccine Adverse Event Reporting System. While health care clinicians must report certain adverse events to VAERS, v-safe provides a mechanism for patients to report directly on any symptoms experienced after vaccine administration. The CDC is asking practices to display a v-safe poster and/or provide a v-safe Information Sheet to all patients. The presentation also highlighted how to evaluate and respond to health care personal and long-term care residents with post-vaccination systemic signs and symptoms that could look like COVID-19 symptoms. Slides are now available on the COCA Call webpage.