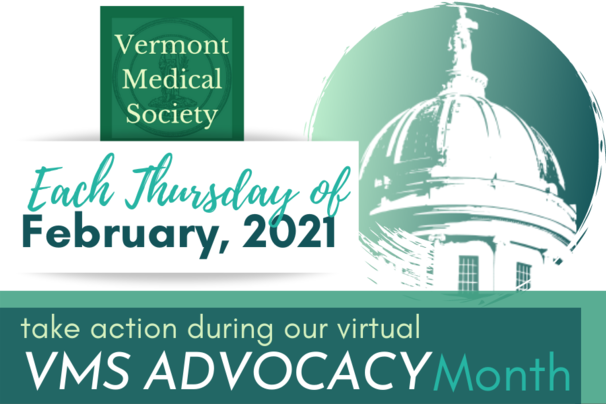 Are you passionate about health care policy issues? Fired up about public health? Do you have ideas of regulations that will support your health care practice or your patients? Do you know your lawmakers? Are you curious about how you craft a successful advocacy message?
This February, join VMS as we will host four weeks of virtual advocacy actions on each Thursday of the month. Feel free to pick and choose the actions you participate in and we will also provide you with Advocacy tools you can access at anytime.
Now more than ever, VMS member voices are critical to improving care for Vermonters, Vermont's health care system and your practice environment.
Advocacy Actions
Feb. 4th- Join the Vermont House and Senate in recognizing the dedication of Vermont's health care workers during the COVID-19 pandemic.
Feb.11th- Participate in an Advocacy training with legislative leaders and physician advocacy experts.
Feb. 18th- Register for our Race and Health Equity webinar for screening tools that promote anti-racism.
Feb. 25th- Engage in our Town Hall discussion with our invited Congressional delegation.