2022 Annual & Collaborative Meeting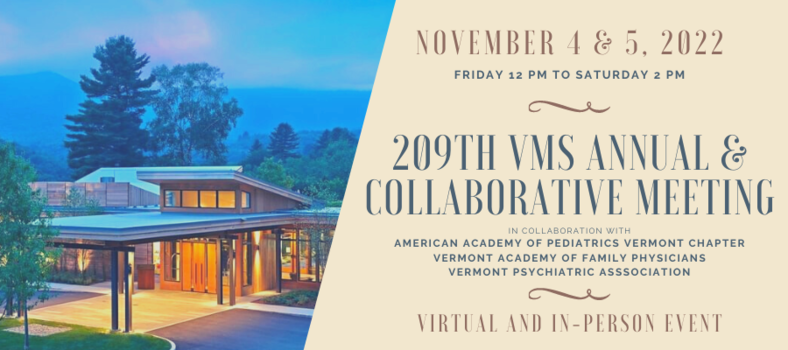 The 209th VMS Annual & Collaborative Meeting
November 4 & 5, 2022
The 209th VMS Annual Meeting will be held on November 4th and 5th in person at Topnotch Resort, Stowe, VT, with virtual options. The weekend will be filled with educational content, time to spend with colleagues, policy-setting meetings, and the opportunity to honor physicians and other health care leaders across the state. VMS' Annual Meeting, hosted in collaboration with the American Academy of Pediatrics Vermont Chapter, the Vermont Academy of Family Physicians and the Vermont Psychiatric Association, is a celebration of the unwavering commitment Vermont clinicians have to their practice and to the deep connection VMS members have with each other.
During the VMS Business Meeting, the VMS President will stewarded the organization through elections and issues affecting its members. Afternoon CME sessions will provide insight on issues effecting health care practitioners and their patients.

The full schedule of events, the speakers, and awardees, will come soon!
Tentative Agenda
Friday, November 4th
12pm to 4:15 - Vermont Academy of Family Physicians Lunch and CME (open to all)
4pm to 6pm - Specialty Societies Membership Meetings
6pm to 9pm - Networking Receptions and Awards
Saturday, November 5th
7am to 8am - Morning Run/Walk
8am to 12:15pm - Registration and CME
12:15pm to 2:15pm - Lunch and VMS Business Meeting
_________________________________________________________________

Please Submit Nominees for 2022 Leadership Awards
Every year, VMS asks our members to nominate Vermont leaders who have provided outstanding contributions to the medical profession, to health organizations and to the welfare of the public. VMS is now accepting nominees for the 2022 Leadership Award Recipients, who have demonstrated a steadfast commitment to the health of their patients and all Vermonters. The awardees will be honored at the awards ceremony the evening of Friday, November 4th.
Submit your nominations here.