2022 Annual & Collaborative Meeting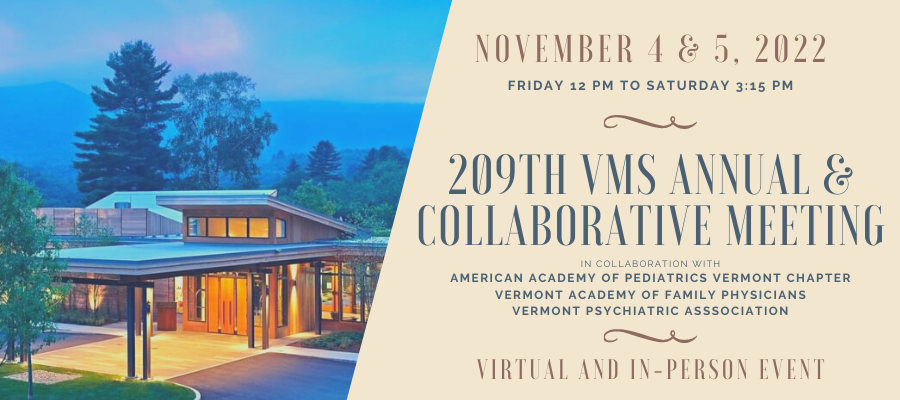 The 209th VMS Annual & Collaborative Meeting
November 4 & 5, 2022
The 209th VMS Annual Meeting was held on November 4th and 5th in person at Topnotch Resort, Stowe, VT, with virtual options. The weekend was filled with educational content, time spent with colleagues, policy-setting meetings, and the opportunity to honor physicians and other health care leaders across the state. VMS' Annual Meeting, hosted in collaboration with the American Academy of Pediatrics Vermont Chapter, the Vermont Academy of Family Physicians and the Vermont Psychiatric Association, was a celebration of the unwavering commitment Vermont clinicians have to their practice and to the deep connection VMS members have with each other.
During the VMS Business Meeting, the VMS President stewarded the organization through elections and issues affecting its members. Afternoon CME sessions provided insight on issues effecting health care practitioners and their patients.

To view presentation slides from the meeting, please click here.
_________________________________________________________________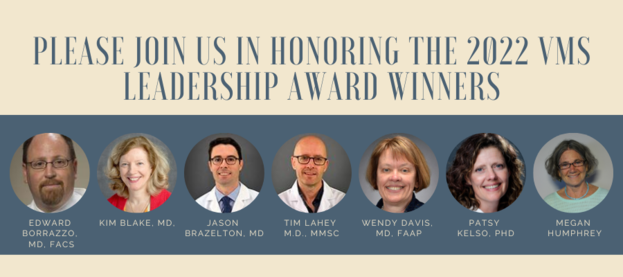 Every year, VMS asks our members to nominate Vermont leaders who have provided outstanding contributions to the medical profession, to health organizations and to the welfare of the public. VMS is proud to announce this year's 2022 Leadership Award Recipients, who have demonstrated a steadfast commitment to the health of their patients and all Vermonters through the stress of the ever-evolving pandemic. The recipients with a portion of their peer nominated statement are:
Distinguished Service Award goes to Edward Borrazzo, MD, FACS
"Awarded for being mentor, an advisor, a friend, and a stanch supporter of Medical Students, Surgical Residents, hospital colleagues, and surgeons here in Vermont and nationally."
Physician Award for Community Service goes to Kim Blake, M.D.
"Dr. Blake's volunteer work raising awareness of substance use disorder, working with families who have lost loved ones, treating patients with substance use disorder, and advocating for harm reduction methods, has made a big impact in Vermont."
Physician of the Year Award goes to Jason Brazelton, MD and Tim Lahey, MD, MMSc
"Dr. Brazelton's thoughtful and collaborative approach has improved care in our community and Porter's Medical staff has been incredibly fortunate to work with him"
"Whether it's updating the medical staff, testifying before the legislature, or speaking regularly with the media, Tim manages to discuss complex issues with compassion and empathy."
Founders' Award goes to Wendy Davis, MD, FAAP
"Dr. Davis has been a beloved primary care pediatrician, the director of the Maternal Child Health division at the Vermont Department of Health, Vermont's Health Commissioner, and most recently a leader in the Vermont Child Health Improvement Program."
Citizen of the Year Award goes to Patsy Kelso, PhD and Megan Humphrey
"Patsy has kept Vermonters aware and updated on the state of the pandemic through data presentations, press conferences and media interviews. She has been a calm, clear, and knowledgeable voice for Vermonters throughout the pandemic"
"Megan is the founder of Helping and Nurturing Diverse Seniors (HANDS). They have offered meals for 20 years, supported the development of gardening programs, and partnered with a local community senior center and local volunteers to create the "Support Buddies" program."