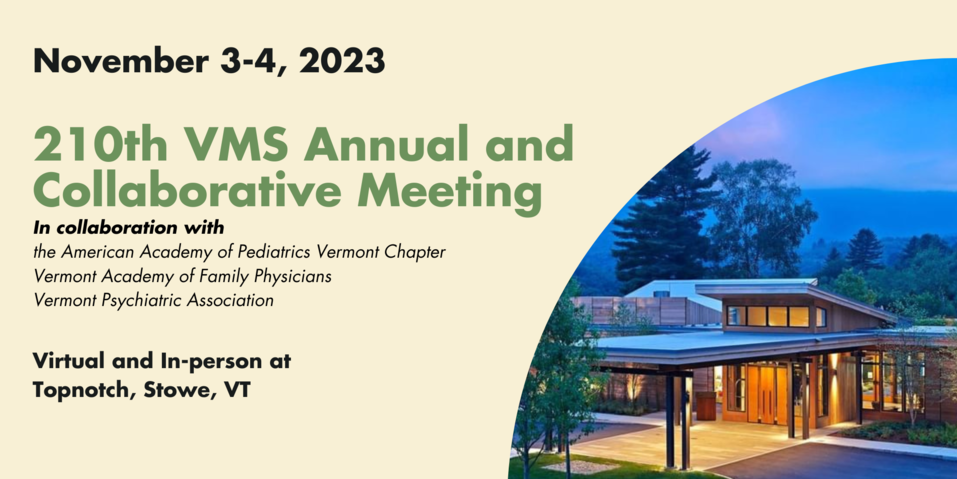 The 210th VMS Annual Meeting will be held on November 3rd and 4th in person at Topnotch Resort, Stowe, VT, with virtual options. The weekend will be filled with educational content, time spent with colleagues, policy-setting meetings, and the opportunity to honor physicians and other health care leaders across the state. VMS' Annual Meeting, hosted in collaboration with the American Academy of Pediatrics Vermont Chapter, the Vermont Academy of Family Physicians and the Vermont Psychiatric Association, will be a celebration of the unwavering commitment Vermont clinicians have to their practice and to the deep connection VMS members have with each other.
During the VMS Business Meeting, the VMS President will steward the organization through elections and issues affecting its members. Afternoon CME sessions will provide insight on issues effecting health care practitioners and their patients.

You can register for the meeting here!
Agenda
Friday, November 3rd
10am to 11:30am - Physician Executive Leadership Institute Presentations
11:30am to 12pm - Registration/Lunch
12pm to 1pm - Climate Anxiety: The Threat to Youth Mental Health, presented by Elizabeth Pinsky, M.D.
1pm to 2pm - Medical Student and Resident Case Presentations
2pm to 2:30pm - Break
2:30pm to 3:30pm - Substance Use Disorder: Rules for Prescribing, Treatment and Maternal Mortality presented by Jessa Barnard, Esq., Katie Marvin, M.D. & Ilisa Stahlberg (Designed to meet 1 out of 2 hours of required credits for addressing prescribing-controlled substances for prescribers with DEA registrations*)
3:30pm to 3:45pm - Break to Specialty Society Meetings
3:45pm to 5:30pm - Specialty Society Meetings (AAPVT, VPA & VTAFP)
6pm to 7pm - Receptions
7pm to 9:30pm - Awards Dinner and Reception
Saturday, November 4th

7am to 8am - Morning Run/Walk
8am to 9am - Breakfast/Registration
9am to 10:15am - Obesity and Medicine presented by Michelle Dorwart M.D., Kimberly Sampson, M.D., Elena Ramirez, PhD
10:15am to 11:15am - PIPE (Pathways in Pediatric Education) Program: Building a More Diverse Workforce : presented by LE Faricy, M.D. with student collaborators Kiana Heredia, BA and Ashley I. Tubens, B.S
11:15am to 11:30am - Break
11:30am to 12:30pm - Gender Affirming Care & Access in Vermont presented by Representative Taylor Small
12:30pm to 1pm - Networking Luncheon
1pm to 2:30pm - VMS Business Meeting
* Note: prescribers will need to complete a 2nd hour to fulfill the 2 hours of required credits for prescribing controlled substances; the 2nd hour must also address Vermont and federal rules and regulations; see options here: https://vtmd.org/cme-requirements-and-course-resources)

______________________________________________________________

Room Booking Information
There may be rooms available on our discounted room block. Use one of the methods below to reserve:
Phone - Call (800) 451-8686 extension 2 and mention the "Vermont Medical Society Annual Meeting in November" to secure the discounted rate.
Online - Visit here for the discounted rate or use the group code VMED23 when booking.
______________________________________________________________
Every year, VMS asks our members to nominate Vermont leaders who have provided outstanding contributions to the medical profession, to health organizations and to the welfare of the public. The nomination period is currently closed.