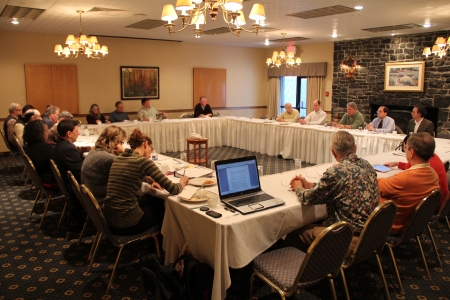 Want to Host a Member Event in your Community?
Do you have an idea for a physician and physician assistant networking, social, or other professional event? VMS has funding available to host regional events aimed at fostering networking and collegiality among the medical profession.
This funding is available due to a bylaws change passed by members at the VMS 2018 Annual Meeting replacing county society dues with a regional and student event fee. Please consider applying for funds for an event in your area! VMS staff is available to help you plan and host.
Criteria for Regional Events

At its 2018 Annual Meeting, VMS eliminated component/county society dues and replaced them with a flat $10 assessment to support regional and student activities.
A portion of this funding is set aside for regional events planned by VMS members and funded based on application to VMS. VMS staff may be available to assist with logistical support. For more information or to request assistance, contact VMS Deputy Director Stephanie Winters at swinters@vtmd.org.
The funding will be distributed according to the following policy:
Events must be open to and promoted to all VMS members in a county or combination of counties and of general enough interest to appeal to a majority of members in a given area.
Proposed speakers/topics must be consistent with VMS policy and/or foster an evidence-based dialog of applicable topics.
VMS has separate funds available to co-sponsor CME/academic conferences, therefore this funding pool will not be used to support CME-type conferences with existing sources of support and is primarily aimed at fostering networking and collegiality among the medical profession.
Funding is distributed on a first-come-first-serve basis up to the cap available to VMS based on its approved annual budget and subject to the limitations of this policy.
Funding per event is limited to $2000 per event with exceptions considered on a case-by-case base.
Funding determination will be made by VMS Executive Director with denials reviewable by VMS Executive Committee.
No VMS funds can be committed prior to receiving written confirmation that the application has been approved by VMS.
The application should be submitted as soon as possible, but no later than 30 days prior to the planned event date.
For the application click here more information and contact Stephanie Winters at swinters@vtmd.org