Health Equity a VMS Priority


"I'm here to get it right, not to be right." - Brene Brown

The Vermont Medical Society maintains its commitment to provide an inclusive membership-based community, in which all physician and physician assistants, from all demographics and belief-systems, are welcome to participate. We also work to combat all inherent bias in health care, both towards the patient and towards the clinician.
VMS leadership and membership has recently adopted these related policies:
Vermont Medical Society Releases Statement Condemning Police Brutality
On June 2, 2020, the Vermont Medical Society, along with the Vermont Psychiatric Association and the American Academy of Pediatrics Vermont Chapter, released a joint statement denouncing the recent brutal and senseless acts of violence towards Black people by law enforcement officers and acknowledging the impact systemic racism has in driving adverse health outcomes in our State and across the nation.
Please click here for the full statement.
Health Equity Resources
AMA Releases Educational Resources to Advance Equity in Health Care
In alignment with its commitment to inform and educate physicians on topics important to health equity, the American Medical Association (AMA) last week announced a series of CME and educational activities aimed at addressing the root causes of inequities, including racism and other structural determinants of health. The new content — featured on the AMA Ed Hub™ Health Equity Education Center and curated by the AMA's Center for Health Equity— will equip physicians and other learners with core health equity concepts needed to support them as they continue to take action and confront health injustice.
Prioritizing Equity CME video series
COVID Black CME module
Additional new health equity-related modules are scheduled for release throughout the remainder of 2021 and beyond, covering key topic areas such as structural competency, public health, social sciences, critical race theory, and historical basis of disease. An overarching goal of the content is to help learners better understand how systems of power, structures, policies, and practices impact us all.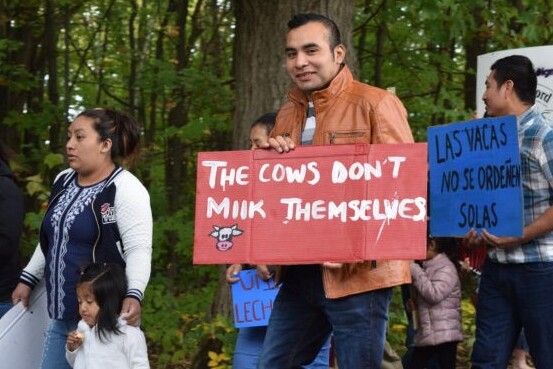 Coming Soon – Funding for Practices Caring for Immigrants
In October of 2021, the State will release an opportunity for practices to receive funding for furnishing health care services to pregnant persons and children who would be eligible for Vermont Medicaid EXCEPT for their immigration status. Health care services furnished for dates of service on/after July 1, 2021 will be eligible for funding through this opportunity. This funding will provide a bridge to the state-funded program that will begin summer of 2022 if the Vermont Legislature provides funding for the program during the next legislative session. Practices can learn more at the following link and more details will be coming this fall: https://dvha.vermont.gov/information-for-non-citizens/act-48-funding-providers and https://legislature.vermont.gov/bill/status/2022/H.430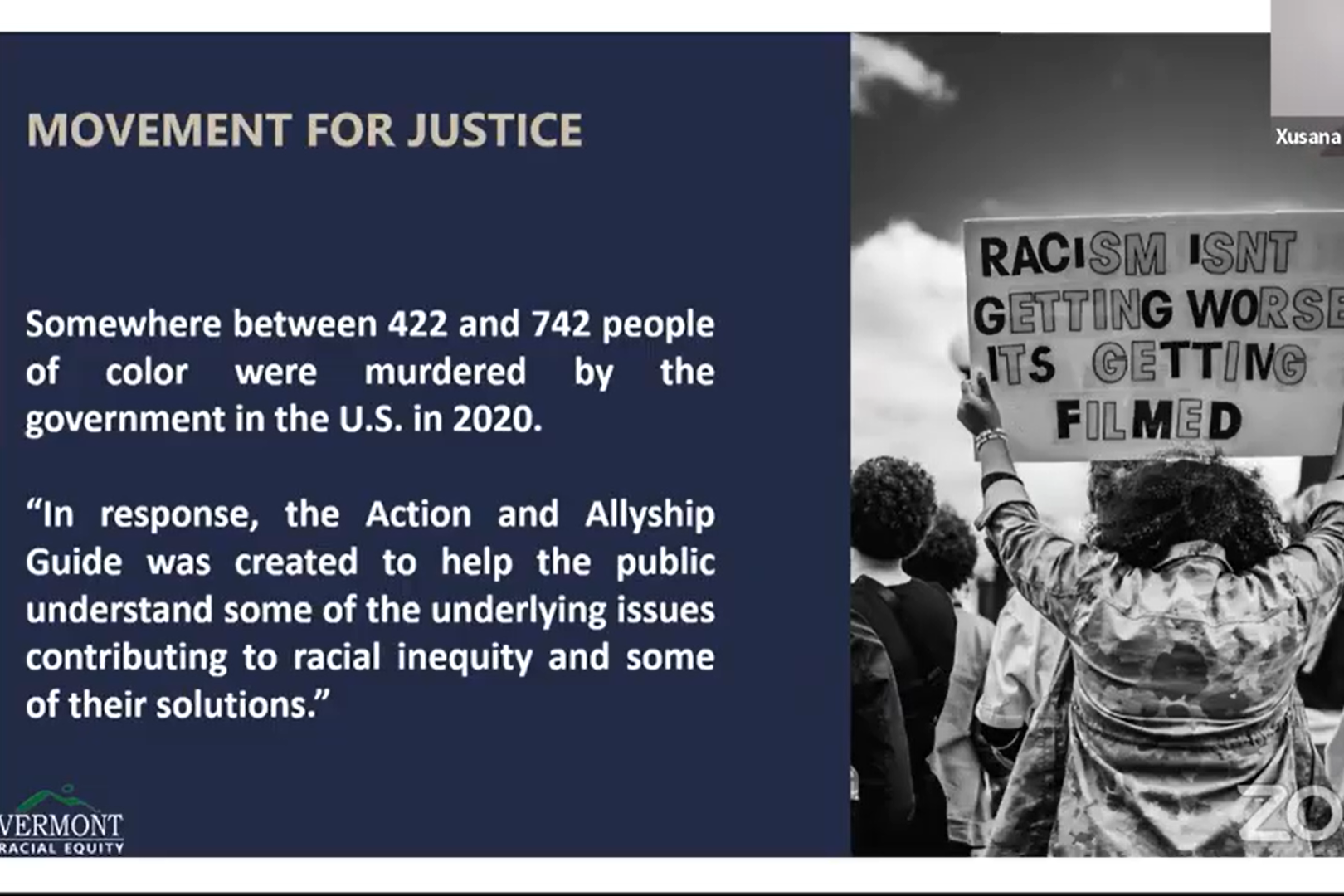 2021 Vermont Racial Equity Reports
After last year's brutal murders of Black Americans and the disproportionate impact COVID-19 has had on Vermont's Black, Indigenous and People of Color (BIPOC) population; racial, social and health equity are key priorities for the majority of Vermont legislators in 2021. This week, two committees: the Senate Government Operations and the House Corrections and Institutions Committees, heard summaries of reports from the Racial Equity Advisory Panel and the Racial Disparities in the Criminal and Juvenile Justice System Advisory Panel (RDAP). Xusana Davis, Vermont's first Executive Director of Racial Equity, delivered her 2021 report along with the Racial Equity Advisory Panel, reporting on the State's progress in identifying and remediating systemic racial bias within State government. Not surprisingly, the findings for 2020 painted a grim picture for Vermont's BIPOC population. COVID-19 brought on heightened out-of-state xenophobia, disparate infection and death rates and a lack of accurate data collection, as initially only 27% of Vermont clinicians were collecting race and ethnicity data when intaking for the virus. Candidates of color running for office faced harassment with very little recourse and the census left out our migrant population, which now represents the majority of Vermont's dairy industry workforce. In terms of the path forward, Davis reported that Equity Impact Assessments are now required for any budget or policy proposal in Vermont State government or in the legislature. Each Vermont Agency is also required to have an "equity liaison," to assist in training and assessments. There are currently 17 state equity councils and task forces, including the Racial Disparities in the Criminal and Juvenile Justice System Advisory Panel (RDAP). Etan Nasreddi-Longo, the Chair of RDAP, delivered the recommendations of their 2021 report, which include the provision of a sustainable investment to create an entity designed to produce and analyze data regarding racial disparities across the juvenile and adult criminal justice systems and that legislative action be taken based on this data. This will continue to be a focus for the legislature in 2021.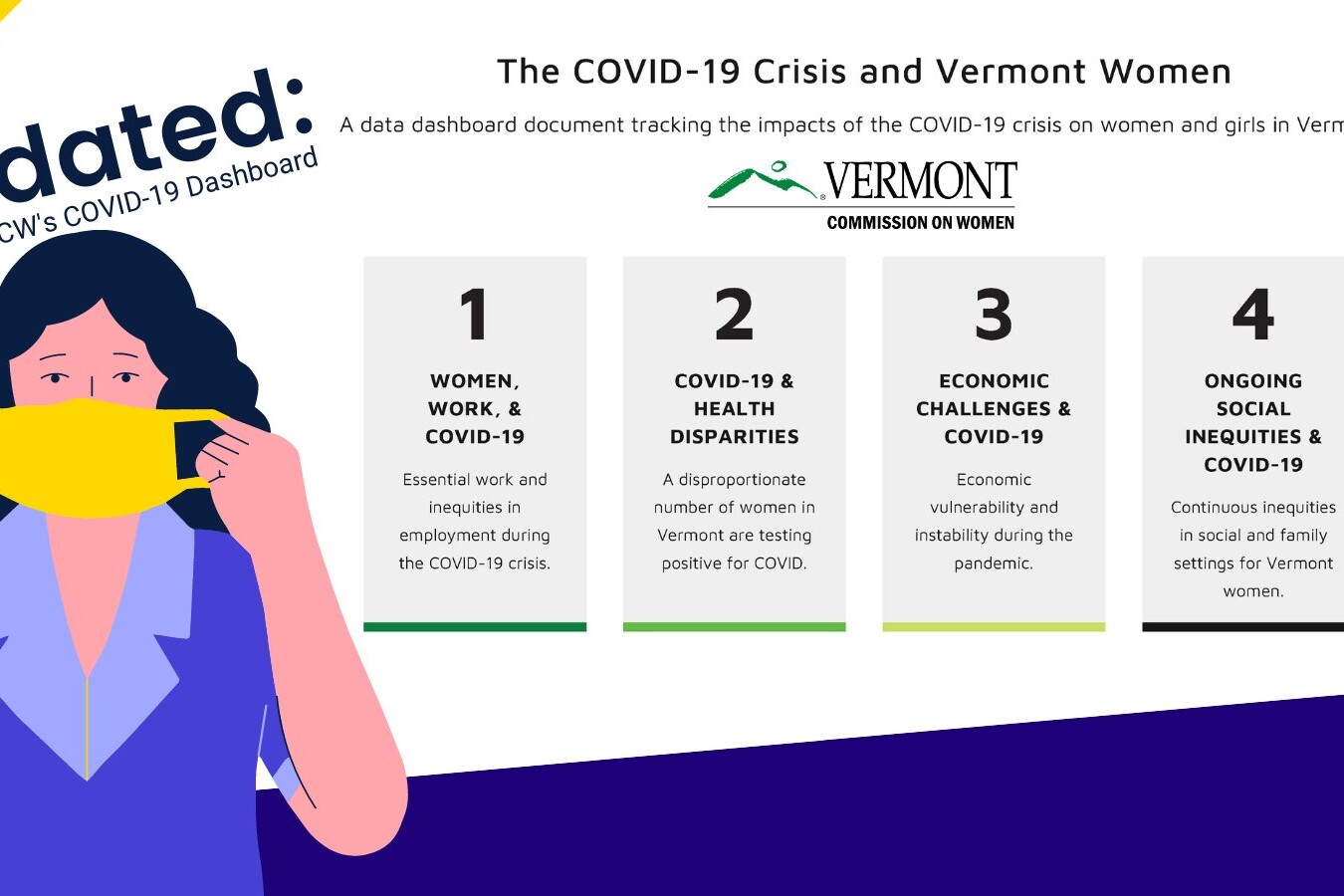 Vermont Commission on Women Publishes Dashboard of Impact of COVID-19 on Vermont Women
January 15, 2021 the Vermont Commission of Women published a dashboard illustrating the disproportionate impact that COVID-19 has had on Vermont Women; leading to increased health disparities, economic vulnerability and social inequities. Click here for the dashboard