Vermont Practitioner Health Program
About the Vermont Practitioner Health Program

The Vermont Practitioner Health Program (VPHP) is a health service of the Vermont Medical Society created for the benefit of Vermont's health professionals. Its purpose is to identify, evaluate and ensure effective treatment for clinicians whose ability to practice medicine is impaired, or is at the risk of becoming impaired. Physicians (including M.D.s and D.O.s), podiatrists, radiology assistants, anesthesia assistants and physician assistants are eligible to participate. VPHP assists practitioners dealing with impairment or risk of impairment due to use of drugs, including alcohol, as well as impairment caused by any factor that interferes with cognition, judgment or behavior. This includes mental health challenges, organic causes of cognitive impairment, and cognitive deficits associated with the aging process.

Referrals
Referrals may come from colleagues, employers, family members, friends, patients, or as self-referrals. Each referral is treated individually, in a compassionate and confidential manner. Participation with VPHP is voluntary.
What happens after I call VPHP?
While each individual's experience is unique, the typical process includes:
1. Completing intake paperwork
2. Speaking with the VPHP Medical Director for an assessment to establish need for further evaluation or monitoring
3. Referral to an independent in-state or out-of-state expert for comprehensive evaluation and treatment recommendations
4. Working with the Medical Director, VPHP coordinator and a VPHP Peer Advisor to implement and monitor compliance with a
treatment plan, which may include primary care, counseling, group recovery meetings, testing for substances and practice monitoring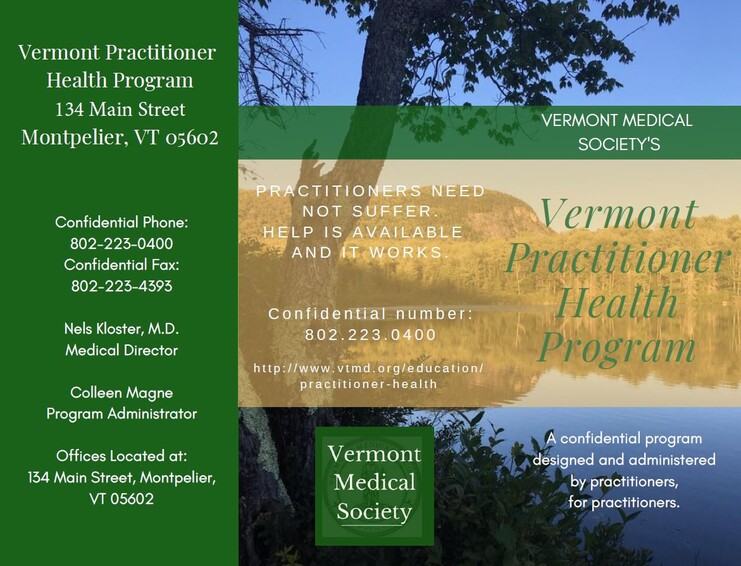 Relationship with the Vermont Board of Medical Practice
VPHP is independent of the Vermont Board of Medical Practice. VPHP does not disclose the identity of self-referred participants to the Board except where there has been injury or the risk of injury to a patient, a criminal act, relapse to the use of alcohol or drugs, or repeated failures by the participant to abide by their monitoring contract with VPHP. In instances where the participant is referred by the Board, the participant may be asked to consent to share more information with the Board. Documentation of participation in and compliance with our monitoring program can be essential in helping to restore and/or maintain licensure.

VPHP Leadership
Nels Kloster, MD, is the Medical Director of the Vermont Practitioner Health Program.
Colleen Magne serves as the Program Administrator.
Our Staff VPHP's efforts are led by our Medical Director Nels Kloster, MD who assesses all referred professionals and manages clinical operations. Program Administrator Colleen Magne handles day-to-day program operations. The VPHP Committee is made up of clinician peer support advisors who assist VPHP participants in their recovery and provide valuable input to the program's operations.
To learn more:
Click here for the VPHP Brochure
To contact VPHP:
Mailing address: 134 Main Street, Montpelier, VT 05602
Confidential Phone: 802-223-0400
Confidential Fax: 802-223-4393
Email VPHP Program Administrator Colleen Magne at cmagne@vtmd.org